Tools of Innovation: a hands on dive into Design Thinking
BIGthink! is the go-to team for business owners who want to set bigger, more ambitious goals, create wealth and live an enviable lifestyle. That's why when we saw this course from Stanford in collaboration with Cahoot, it was a no brainer to share with you!

John Di Natale
Overview
Move beyond theory and dive into the experience and practice of innovation through rapid prototyping. Students will learn the principles of rapid prototyping and tools for gaining empathy with customers and immediately put them to use in a series of hands on exercises. Using Design Thinking as a framework, students will tackle innovation challenges from start to finish and leave with an understanding of the key tenets of design thinking and a sense for ways they can incorporate them into their work.
As part of the Stanford Professional Certificate in Innovation and Entrepreneurship, the Tools of Innovation course comes straight from the heart of Silicon Valley. It is designed to foster your ability to think differently in your quest to develop innovative products, services and organisations.
The Stanford Center for Professional Development makes it possible for today's best and brightest professionals to enrol in Stanford University courses and programs while they maintain their careers.
Cahoot is an online learning environment and methodology developed specifically for professional education. Collaboration is the key and learners work together with Stanford course experts in an intimate online community.
"Be prepared to get out of your chair and use your whole brain, because creativity and innovation take practice."
Benefits
Learn from world renowned faculty from the Stanford School of Engineering and d.school
Gain useful tools and strategies that you can apply immediately whether you work at a start-up or a large organisation.
Learn how to engage customers to gain valuable insights
Prototype and rapidly test concepts
Practice applying new concepts and frameworks to refine your skills and knowledge
Be part of a dynamic innovation community including Stanford innovation coaches
Share your successes, solve problems and experience challenges with your peers in Cahoot, one of the world's most innovative online learning environments.
Who Should Enrol
Intrapreneurs from large and small companies developing new products and services
Leaders of innovation teams
Project team leaders in any field or organisation - public or private
Entrepreneurs looking to start their own venture
Professionals and managers who want to create a culture of entrepreneurship in their organisation
Move your career forward with Stanford course recognition.
Instructors
Jeremy Utley |
Lecturer and Director of Executive Education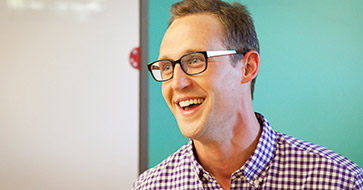 Jeremy Utley was using the principles of design thinking long before he encountered the d.school. From starting a small-venture incubator in Bolivia to evaluating acquisition targets for clients of the Boston Consulting Group, he has sought to meld his analytical nature with his passion for human-centered innovation. A graduate of Stanford's Graduate School of Business, he saw first-hand the cascading impact of the d.school while working in India as a business development consultant for D.light Design, a venture-backed start-up founded at the d.school. As a 2009 d.school fellow, Jeremy taught their flagship class, Design Thinking Bootcamp.
He currently leads the d.school's work with organisations, managing and directing the executive education programs. He serves in an advisory role to help organisations - from Fortune 500 companies to cutting-edge start-ups - implement design thinking. Jeremy's own passion is for fostering creative confidence and leadership potential in his students. His d.leadership class, for example, offers master's students at Stanford the opportunity to move beyond the fundamentals of design thinking into leadership and teaching roles.
Perry Klebahn |
Consulting Associate Professor and Director of Executive Education, Stanford D.School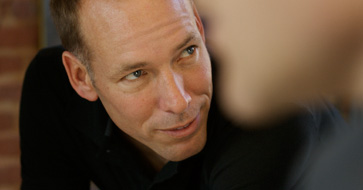 Perry Klebahn is a true entrepreneur and innovator. He is also a natural teacher and a co-founding member of the faculty at the d.school.
He received his Masters from Stanford in the product design program in 1991 and has taught there periodically since 1996. He left Stanford with his degree and his design project - a snowshoe. He turned his project into a business, creating the Atlas Snowshoe Company. His experience taught him several things: you can't do anything significant on your own, you need a team; and engineering something is not nearly as much fun as marketing what you have engineered.
In 2000, Perry sold his snowshoe business and moved to Southern California to run sales and marketing for Patagonia, an outdoor clothing brand. There, he got a chance to market on a global scale, learning to balance the need to drive sales while building a brand with important commitments and a sustainability message.
In 2007 he took on a new challenge at Timbuk2, the original bike messenger bag company. As CEO of the San Francisco-based company, Perry focused on delivering custom products and an innovative customer experience. He implemented many techniques used at the d.school at Timbuk2. A founding faculty member of the d.school, Perry teaches classes including: Launchpad, Design Garage, d.Health, and d.leadership. He runs the executive programs for the d.school.
"For Professional Services firm PwC, design thinking has become a growing way of working, with more than 150 of the team in Australia trained or practicing it as a core. PwC have teamed up with clients to co-create in Telecoms, Media, Financial Services, Health and Retail. It is a different way of working, and the mind set shift is a real one. One of the most critical elements of success in deepening design thinking capability, is moving beyond the theory to the practice.
A few months ago we extended an invitation to individuals across the firm who weren't working with design, to enrol in a new 8 week Stanford online course by Cahoot. The interest to attend the course, the experience of those enrolled, and the capability uplifted, was outstanding. It's amazing to see the forums, questions and sharing generated, and how it's immediately applied to client and firm challenges, and become a shared commitment and language across the firm."
Kate Eriksson, Principal, PwC
Course Syllabus
Module 1. Empathy
Opens 26 April 2016
Learn empathy techniques and principles along side two students as we do a real project for a real business. This session's goal is to give you a clear set of empathy tools to uncover consumer needs and insights that can drive great innovations in your work.
Approximate video length in module: 112 minutes
Estimated time to complete all exercises in module: 5 hours
Module 2. Define
Opens 26 April 2016
In partnership with your online cohort you will work through a powerful Design Thinking process, analysing the empathy work you have all done and formulating a new, user driven problem statement (Point of View). The goal of this session is to teach you a clear process and set of techniques to synthesize the quantitative and qualitative empathy work into a clear problem statement to drive your design work.
This module also features an interview with Dania Duke, General Manager, Hyatt Regency Santa Clara.
Approximate video length in module: 72 minutes
Estimated time to complete all exercises in module: 4 hours
Module 3. Prototype
Opens 9 May 2016
Learn to use rapid experimentation techniques to quickly visualise and bring your ideas to life, generate options, and increase the learning for your team at the start of projects.
Approximate video length in module: 54 minutes
Estimated time to complete all exercises in module: 4 hours
Module 4. Testing
Opens 9 May 2016
Learn the techniques and attitude for rapid and rough user testing. Learn to test ideas that are not fully resolved to increase your team's learning early and vet concepts for feedback before they become too expensive to change.
Approximate video length in module: 30 minutes
Estimated time to complete all exercises in module: 4 hours
Course facilitation finishes 23 May 2016
Course closes 25 July 2016
N.B. Course work can be submitted up until 25 July 2016
Course Requirements
Watch all course videos and complete all course exercises. Submission of all exercises is required to unlock the link to the course examination in the "Final Steps" section of Cahoot. The exam consists of 15 multiple choice questions and is administered online. A score of 86% or higher is required to pass.
To successfully complete the course, students must:
Watch all course videos
Complete all exercises including forum challenges and empathy mapping
Pass the examination, and complete the course evaluation.
Your responsibilities as a student of the Stanford Innovation and Entrepreneurship Certificate, including a link to the Honor Code, is available at here.
Course Materials
All course materials are provided within Cahoot. These include the course videos, exercise instructions, and other course handouts.
Earn a Certificate of Completion
Participants who successfully complete all course requirements are eligible to receive official recognition of course completion and 20 CPD Points.
Enquiries
For all enquiries please contact CPDlive.
Telephone:
(Australia) +61 3 8080 9966 or 1300 273 548
(New Zealand) +64 9887 7141
Email:
admin@cahootlearning.com